Dating back to the 18th century
Built at the beginning of the 18th century, the Moulin de la Récense has become an emblematic place in Provence, marked by the imprint of time and more than 300 years of history. Originally, we used to make an oil called "recense" obtained by extracting olive pomace, already pressed. A fabulous oil used to make candles and traditional Marseille soaps.
Then, in the early 1970s, the Moulin de la Récense was acquired by the Bousquet family. A new story begins. A love story, first of all. And of patience. A long period of work then follows in order to restore the building to all its splendor and rediscover its primary vocation: to welcome and gather.
Today, visitors say they feel good there. Is it the crossing of the ages that has invested the Moulin with such a soul? We like to think that it is the happy events that have been celebrated there for over 15 years that give it a special atmosphere.
The Spaces
A park and 400m2 indoors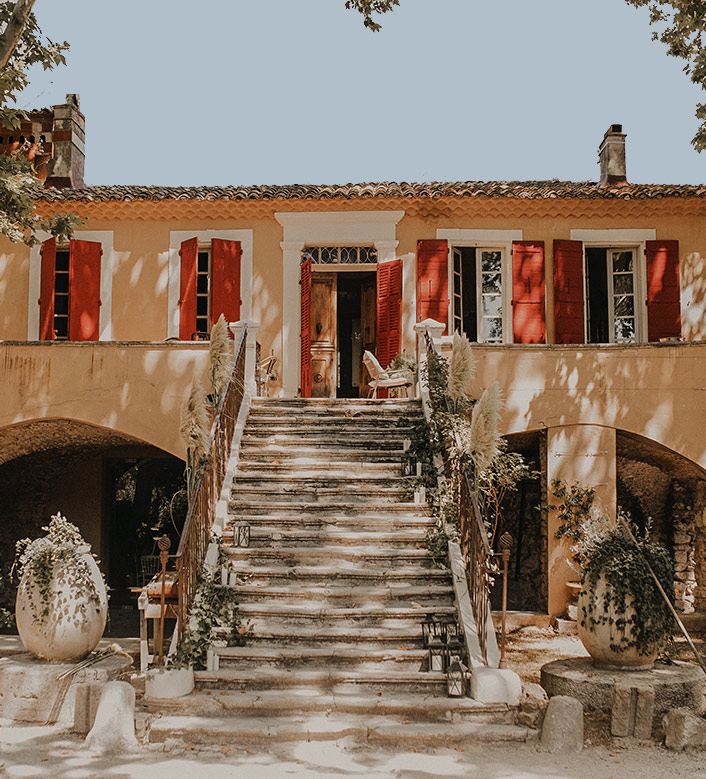 Line with three hundred year old plane trees, the Moulin de la Récense is located in the heart of a wooded park of more than two hectares.
Typical of 18th century Provencal architecture, the large vaulted hall used to house the presses of the mill. Each architectural element – including the old millstone – is subtly highlighted. The large vaults of this main room sublimate the receptions with a particular cachet, while the polished concrete on the floor brings a contemporary style to the space. In this room you can dine with 120 guests while keeping a dance floor.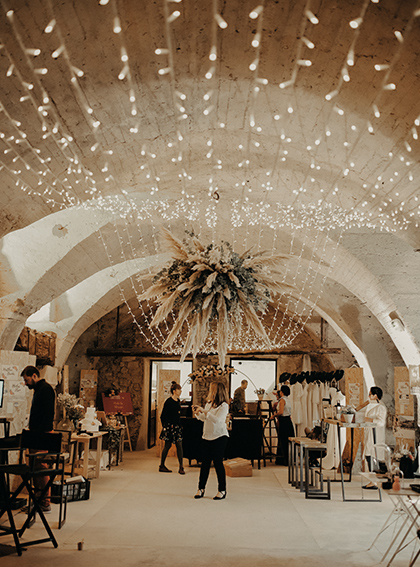 The gigantic paddle wheel which, for three centuries, supplied the Moulin with its energy, dominates the room and gives it a monumental, spectacular character.
The interior lightings enhance the architectural aspect of the wheel, while exterior lighting reveals the discreet presence of the surrounding garden.
Ideal place for aperitif or buffets, this room welcomes 120 people pleasantly for a cocktail or a secular ceremony under cover, and in complete privacy.
The Partners
The best professionals at your service
Florists, rental companies, officiants, DJs, photographers or videographers… The Moulin de la Récense has been a partner of the most talented professionals in the south of France for over 15 years. Each year, these experienced professionals meet at the Ouiding festival, an alternative Festival about wedding, imagined and created by the Moulin de la Récense.
So, by getting married at the Moulin de la Récense, you will benefit from a unique address book, but also advice and recommendations to make this day an unforgettable moment.